Is Deena Nicole Cortese actually bisexual, or just putting on a show for MTV cameras? Unclear. Did she just pull a robbery on Sitch and Vinny? Quite clear!
That was not a Jersey Shore plot line we saw coming. The exposing of Sitch and Snook's smush session and the Ron-Sam reconciliation, however, felt inevitable.
As always, we've recapped all the top Jersey Shore quotes and moments for you below. Let's break last night's episode, "Twinning," THG +/- style!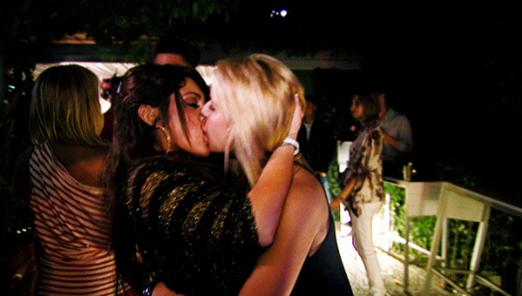 Snooki wants to grab a glass of wine with Ron before GTL. Lush. Minus 4.
He plans to have "the conversation" with Sam soon, he says. We're already feeling a bit scared, emotionally drained, and excited for the fireworks. Plus 5.
Snook feels Luigi's "weiner" at the gym. He nods and laughs, since he doesn't understand. Or maybe he does, which would be even funnier. Plus 3.
Deena is gettin' some Lean Cuisine. NOTE: Not the frozen dinner. Minus 2.